Boston benefits from 'affordability and economic appeal'
by Timothy Inklebarger
Residential properties in Boston were identified as being appropriately valued by the UBS Global Real Estate Bubble Index report.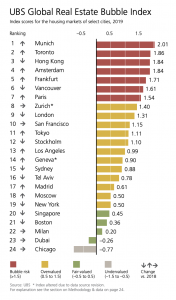 The report noted that the city "benefited from its good affordability and economic appeal for businesses and high-income earners" and that the affordability of housing in Boston reduces risk of price correction.
Prices in Boston have continuously increased over the last seven years, but such growth rates are receding, the report stated.
"Over the last four quarters, prices have risen by 3 percent in inflation-adjusted terms, in line with the national average," the report noted. "The economic appeal of Boston and a catch-up in price levels have triggered the relatively strong rise in prices."
Strong population growth and relatively good affordability have driven housing demand in Boston, "hence, market valuations are still not excessive," the report stated.
Borrowing costs will also play a role. Additional reduction in mortgage rates could increase price growth in the short and medium term, the report added.