Best business books according to top producers
by Evi Arthur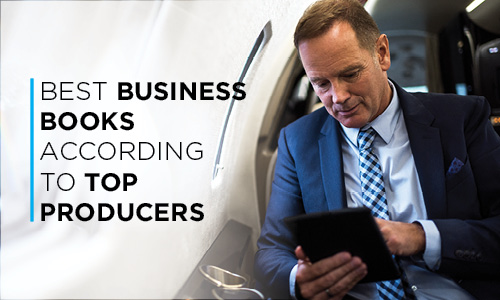 For many agents, a robust reading list helps them learn new techniques and information. We spoke with a few agents at the top of their game around the U.S. to find out what should be on your reading list in 2019.
Jonathan Rich: Keller Knapp Realty — Atlanta, GA
Jonathan Rich, top producer and team leader with Keller Knapp in Atlanta, said every real estate agent should read Thirst by Scott Harrison. Harrison is the founder and CEO of charity: water, a nonprofit organization that funds water projects serving more than 8 million people in 26 countries. "He built a new business model for a charity that is resonating with the millennial generation and he placed it on the back of really good marketing and storytelling," Rich said. "It's important for real estate agents to tell a good story. Marketing is everything for yourself, your brand and your clients."
Sarah Leonard: RE/MAX Suburban — Schaumburg, IL
Many agents might rely on business and real estate focused books to give themselves an edge, but Sarah Leonard often encourages her team read more unconventional books to keep themselves motivated. Leonard, top producer and team leader with RE/MAX in Chicago, most recently had her team read Girl, Wash Your Face by Chic Site founder Rachel Hollis. Hollis' blog — which began as a how-to for young women after she caught her Thanksgiving turkey on fire — contains articles ranging from healthy eating and exercise advice to lists such as "5 Documentaries to Watch on a Rainy Day." Leonard said she hoped the book would help her team to grow in a personal way, which in turn would also help them to grow professionally. "This helps with female empowerment, and that is always important for us to focus on, along with staying positive and growing as a person," Leonard said.
Paige Martin: Keller Williams — Houston, TX
While many agents might not have time to read, others make time, like Paige Martin of the Houston Properties Team at Keller Williams Memorial in Houston. Martin was able to learn a lot about her own business ventures by reading The Great Game of Business by Jack Stack, the man who created the idea of "open-book management." Stack's leadership methods give employees a voice in major business decisions and important financial discussions. "They outline a great series of tips and tools to better run a business. I've been able to implement a lot of these for my team this year," Martin said. Martin also recommended Gary Keller's The One Thing, which discusses the power of focus, "which is a reminder we constantly need," Martin said.
Matt Laricy: Matt Laricy Group — Chicago, IL
Matt Laricy, managing broker of the Matt Laricy Group in Chicago, relies on financial parables like those found in The Richest Man in Babylon in order to stay on top of his game. The parables in this book by George Samuel Clason focus on strategies like staying out of debt, making the most out of what you earn and investing wisely through stories about merchants and shepherds. "In a business like ours, your future can always be uncertain," Laricy said. "Reading this every year reminds me about the power of saving."
Jena Radnay: @properties — Winnetka, IL
Finding time to read in a busy schedule is difficult for Jena Radnay, a broker with @properties in Winnetka, but when she can, she usually picks up a Paul Arden book. Most recently, Radnay read It's Not How Good You Are, It's How Good You Want to Be, a "handbook" for how to be successful in life that employs a spread of quotes, pictures and facts. Arden's latest book provides lessons in problem solving, communicating and making mistakes, promising to help readers "make the unthinkable thinkable and the impossible possible." "You might be at the top of your game, but I feel you always have to be thinking 'what's next?'" Radnay said. "In real estate, you are only as good as your last deal."