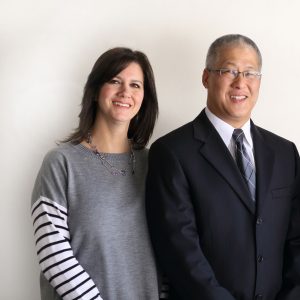 Name: Cheryl and Fred Chi
Job Title: Executive Real Estate Consultants
Company: Benoit Mizner Simon & Co
What was your first job in the realty industry?
Cheryl: My family did a lot of commercial and residential real estate development in the 1980's and I worked as a property manager for many of these buildings.
Fred: My first job in real estate was as a Sales Agent.
Where did you grow up?
Cheryl: I grew up in Framingham and when I was in middle school my family moved to Newton.
Fred: I grew up in Longmeadow and moved to the Boston area after earning my Bachelors Degree in Marketing and Finance from the University of Vermont.
Growing up, what did you want to be?
Cheryl: Growing up I wanted to work in the fashion industry.
Fred: Growing up I wanted to be a teacher or guidance counselor because I really wanted to help people learn things and motivate them to achieve their goals.
What do you do to relax when you're stressed?
Cheryl: When I'm stressed, I like to knit while watching a good comedy and I'm embarrassed to say my kids got me hooked on Candy Crush.
Fred: When I am stressed I make lists or spreadsheets – this gives me a sense of organization and then I can prioritize what needs to be done. It's a great feeling when you can check something off a list. I also love to watch any type of sports from the Patriots to darts to the corn hole championship – I'll watch them all!
If you could have lunch with a well-known figure (living or not), who would it be and why?
Cheryl: Princess Diana, I'm fascinated by the Royal Family. She was a very strong woman and I admired her charity work and the causes she brought to the attention of others.
Fred: Larry Bird, I idolized him growing up because he worked hard, was a selfless player and was driven to be a winner.
Where is your favorite place to hang out? Siesta Key in Sarasota. The white sandy beaches and gorgeous sunsets are spectacular. Locally there are some fabulous restaurants and bars that are great for hanging out and meeting people.
What do you love most about the industry?
Cheryl: I love seeing the excitement on our client's faces when they find their "perfect home".
Fred: I love the fact that no two buyers, sellers or transactions are the same so the job never gets boring.
How do you distinguish yourself from the crowd of agents? We are both very personable and approachable. We know our clients feel that we really have their best interests in mind when helping them sell or buy a home. We give honest feedback and advice and try to understand their situation to help each client achieve their goal.
What is the most difficult aspect of your job? The most difficult aspect recently has been educating and advising our buyer clients during the Spring market for the past three years. The frenzy of the market forces buyers to have to make quick decisions on whether they want to put an offer in on a home, usually within hours, and also on how to make their offer as strong as possible (aside from price).
Where do you go to network and meet new clients? Our business is primarily from personal referrals from past clients, friends and family. We host a Client Appreciation Party every year and try and stay in touch with everyone thru-out the year.
What has been your greatest accomplishment? Our four kids, three of whom are in college right now and one who graduated already. From a real estate perspective, it has to be being recognized as one, if not the top real estate team in our company for 11 years running – it is a true testament to our level or service and professionalism we provide to all of our clients.
What was the last good movie you saw or book you read?
Cheryl: "Eleanor Olipahnt is Completely Fine" – Loved the character's quirkiness , very endearing. Looking forward to seeing the movie.
Fred: "12 Strong" – I really like war movies based on true events. It is a great reminder of the sacrifices men and women have made to protect our freedom.
What is your favorite restaurant? Gibbet Hill Grill – great farm to table food in a beautiful setting.
Architecturally speaking, what is your favorite building in Boston?
Cheryl: Institute of Contemporary Art – I am a fan of contemporary design so I love the building and the museum.
Fred: I am going outside of Boston and saying the Library of Congress in DC. My son just took us there last month and it is spectacular.
Smartphone or paper?
Cheryl: Smartphone – hands down
Fred: Smartphone, unless I am making a list!
What is your favorite city after Boston? We love Washington, D.C. for the museums and the history.
In 10 words or less, what is your advice for someone new to the industry? Stay positive and never get too high or too low.
What's your favorite real estate iPhone/Android app? LIKEtoKnow.it for home. Great for getting simple decorating ideas. All you do is take a screen shot and Liketo Know.it will let you know where you can purchase the items. Houzz is another one too
---
Want to be featured in our Agent Snapshot? Click here and complete this survey. Agent Snapshots are published on our website and shared in our newsletter and social media feeds.