How climate change will impact Boston's real estate market by 2030
by Joe Ward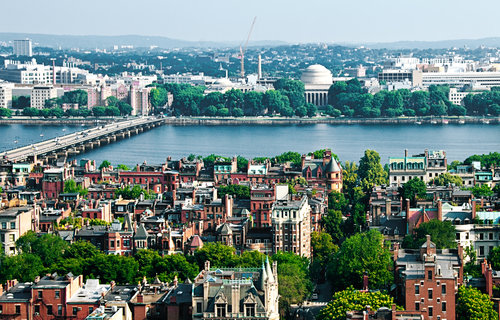 A major storm last winter showed Boston residents what life might be like as climate change causes sea levels to rise. Now, a new study aims to show which areas around Boston will see their real estate markets impacted the most by climate change.
The city of Boston will have 141 homes at risk of being lost to rising sea levels by 2030, according to a study by the Union of Concerned Scientists. That could cause nearly 300 people to become homeless, put $287 million in property values at risk and cause the city to lose $704,084 in tax revenue per year, the study reports.
Boston's risk from rising sea levels is relatively modest compared to Revere, which is the Massachusetts city most at risk due to climate change. The town could see 573 homes lost by 2030, a loss in value of $195 million, according to the study. (The resort town of Hull is next with 491 at-risk homes.)
The study not only shows which communities stand to lose the most, but also which ZIP codes are the most at-risk from global warming. The Boston-area ZIP code that is by-far the most at-risk in the area is 02125, which covers some of the city and its inner suburbs.
That ZIP could see 573 homes lost to rising sea levels, which could cause 1,300 to be displaced and wipe out $195 million in home values, according to the report.
Here is how some of Boston's most vulnerable real estate markets stand to be impacted rising sea levels. To check out "Underwater: Rising Seas, Chronic Floods, and Implications for US Coastal Real Estate" by the Union of Concerned Scientists, click here. 
Climate Change's Impact On Boston Real Estate By 2030
City/ZIP Code
 Homes at Risk
Value at Risk
Property Tax at Risk
 Population currently housed in at risk homes
Boston
 141
$287.6 million
$704,084
296
02109
 140
$287 million
$703,221
 193
02150
 11
$33.9 million
$483,569
 30
02125
 1
$592,100
$863
 2
02170
 174
$72.2 million
$1.02 million
 412
02171
 4
$1.5 million
$22,012
 8
02169
 176
$68 million
$964,536
 361
02152
 200
$71.8 million
$1.03 million
 419
02151
 573
$194 million
$2.8 million
 1,336
01969
 5
$1.1 million
$15,669
 13