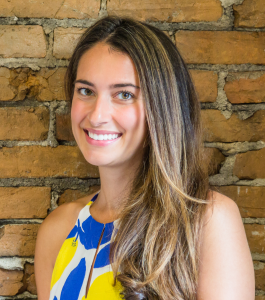 Real estate agents often have the mentality of "more more more" — the more clients you have, the more homes you sell, the more money you make. But customer service 101 says that the more you get to know your client base, the better you can serve them, turning them into repeat customers and sources for future referrals.
That's the route Dana Bull, a Realtor with Harborside Sotheby's International Realty in Marblehead, took upon entering the industry. When purchasing her first home at age 22, Bull "made every mistake in the book" and set out to make the homebuying process smoother for millennials.
As a millennial coach and expert — not to mention a member of the generation herself — Bull is now a valuable ally to her clients, many of whom experience unique difficulties in buying a home: nagging student loan debt, inventory shortages and soaring prices.
Read on to find out how being an expert in a specific buyer segment puts Bull ahead of the competition.
What spurred you to become an expert in a certain real estate buyer segment?
My niche is an interesting blend: young clients purchasing old houses. You can't be all things to all people, so I chose two areas that resonate with me the most. In this competitive market, being a buyer's agent is a time-consuming, yet fast-paced and challenging endeavor. There are late-night calls, last minute schedulings and general urgency around all transactions. Surrounding myself with clients who I enjoy representing, advocating for and spending time with makes all of the difference. I've always been drawn to older homes — their history and architecture. Having personally owned many properties built between the 1750 and 1950s, I love to share my enthusiasm and lessons learned with my clients.
I focus on the individual client and their goals and whether or not we are going to be a good fit. Most of my buyers are under the age of 35. They are targeting older properties — whether it's a multi-family, condo or single-family — which comprises a good portion of the Boston and North Shore housing inventory.
How did you choose to specialize in millennials? 
Since I am a millennial myself, this was a logical path. Naturally, I am able to connect with my peer group, because I truly understand the hurdles they need to overcome. Young buyers are in the midst of the "building years" — they are starting careers, getting married, having babies. There's a lot going on. I can relate to how difficult it can be to pack in open houses when you have 10 weddings on your calendar this spring. I understand how impossible it feels to save up for a down payment when you're trying to get out of college debt. I get it. I've been there, I've done that.
What type of learning/training did you complete to become an expert in millennials? 
I learned the hard way, by doing it. I put myself through the wringer in the beginning. At 22, I began collecting properties on the North Shore before moving to Boston. As a female landlord and property manager, you have to learn quick how to survive the real estate industry. My hands-on experience is invaluable to my young buyers who are often intimidated to take the leap. I've built up a great support network of lenders, attorneys and contractors. In addition, I continue to learn from seasoned agents in my office who have seen it all. Every day there is a new opportunity; I'm constantly growing and building.
Prior to diving full time into real estate, I worked in the world of high-tech startups. While a seemingly unrelated field, this background provided immense training for the mindset and tools that I've needed to be successful. Having a sink-or-swim mentality has been an absolute must. My previous entrepreneurial employers already groomed me for that. The ability to adapt and leverage technology has also been huge. For example, I regularly host virtual meetings with clients to review documents and discuss strategy.
How has being a generational expert boosted your real estate business? 
Carving out a segment is one of the best decisions I made career-wise. So many opportunities have materialized in the past few years. The Zillow Group brought me on last summer to run a column on "finding your first home" for RealEstate.com. Connections have been made with media companies, and I've received some excellent press exposure leading to new clients. There is a lot in the works!
What's the most surprising thing you've learned in being an expert in a specific segment? 
It's OK to turn away business. Since, I'm generally a "yes person," I hate to miss an opportunity. That said, I'm learning to say no to things that are outside of my focus so that I can continue to fine-tune my areas of expertise.
What advice would you give others who are thinking of becoming an expert in a segment?
Becoming an expert in a particular segment limits you. But it will allow you to refine your message, brand and knowledge base. Ultimately, I think this lets you develop systems that not only resonate better with prospects but also drive better results. You don't need to put all your eggs in one basket, but at least focus on a few areas that you can really drill into.