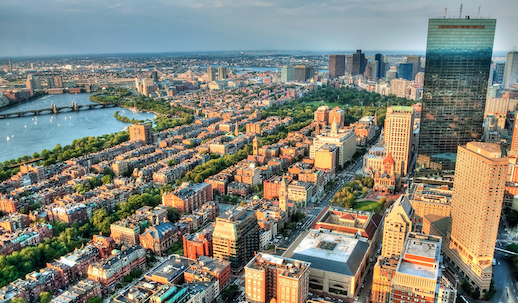 With Amazon's pick of its second headquarters — HQ2 — looming sometime in 2018, cities are continuing to position themselves in case they're the chosen one. In Boston, which some say is a surefire finalist, several sites were pitched to the ecommerce giant, and the developer of one site is asking the city to waive its environmental review. HYM Investment Group, which owns 161-acre former racetrack Suffolk Downs, says skirting the lengthy review process would make it more desirable to Amazon, The Boston Globe reported.
"We want to make sure that if Amazon calls next week or next month and says, 'We're coming,' that we're prepared," HYM managing partner Tom O'Brien said to the newspaper. "We hope that Amazon will be impressed by [the] fact that we're doing what we said we could do."
Whether or not it's chosen for HQ2, the redevelopment of Suffolk Downs will include 16.5 million square feet of residential, retail, office, hotel and laboratory space — 11 million in Boston and 5.5 million in Revere.
Elsewhere in Boston real estate news this week:
Analysis from PropertyShark found that there have been 2,095 sales of homes of $1 million or more in Boston in the past three years. On the East Coast, only New York and Washington, D.C. have had more $1 million-plus sales.
The folks over at Curbed are asking readers to sound off on 2017 real estate, including top trends, neighborhoods, buildings, developments and ideas. What stands out to you most this year?