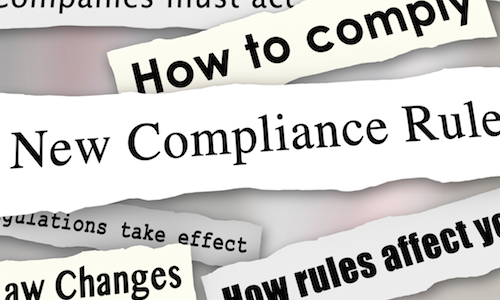 It's been more than a month since the TILA-RESPA Integrated Disclosure (TRID) guidelines came into effect, and so far, the industry hasn't devolved into total chaos. But that doesn't mean lenders still aren't worried.
Financial services company Wolters Kluwer recently conducted a survey of the lending industry as part of an annual evaluation of current regulatory and risk management concerns. More than 85 percent of respondents agreed TRID was the top regulatory challenge facing the industry.
More specifically, lenders cited grievances against the guidelines' 3-day waiting period (32 percent) – which relates to the closing disclosure (CD) form – and the procedures surrounding last minute changes that require redisclosure or delay a closing (24 percent). But while most respondents could pinpoint particular portions of the guidelines they saw as problematic, when asked to name the top challenge relating to TRID, 18 percent answer "not sure."
Sarah Valentini, president of Boston-based Radius Financial Group, reaffirmed Wolters Kluwer's findings.
"Yes. The TRID changes are the most substantial changes to our industry of all the Dodd-Frank required regulations," she said.
The amount of resources being consumed, from technology to manpower, she said, is "unlike any of our other DFA/CFPB regulatory rule implementations."
Industry Needs to be More Proactive
In a statement accompanying the report, Wolters Kluwer Executive Vice President Timothy R. Burniston called the concerns raised by the surveyed lenders a sign the industry needs to be more proactive in addressing regulatory challenges.
"The continuing upward trajectory of concern shown by banks and credit unions closely correlates with the growing level of angst we've witnessed while helping clients the past year across a range of isses – including TRID preparation – with other major regulations such as the Home Mortgage Disclosure Act proposed data collection rules looming on the horizon," he said. "Their concerns reinforce the need for instituting thoughtful, proactive regulatory change and risk management practices to help address these mounting challenges."
While Valentini acknowledged that certain elements of TRID make the borrowing process "harder and more convoluted," she also said that the industry is fortunate to have received CFPB's good-faith effort extension and admits the consolidated documentation leaves them better off than before.
"I think the new forms, the LE and the CD, provide consistency and clarity to the consumer," she said. "In the end, the forms are better than the GFE and the HUD-1."