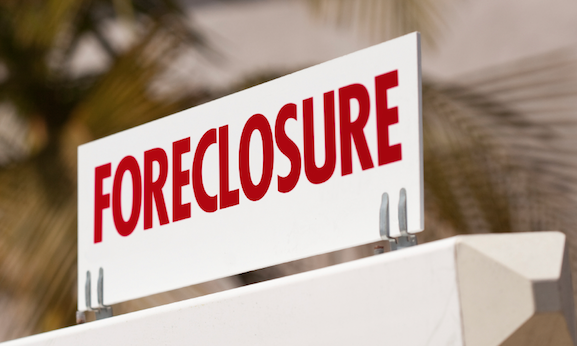 Foreclosures continued losing market share in July, as inventory declined 27.9 percent from the same time last year, with completed foreclosures dropping 24.4 percent, according to CoreLogic's latest report.
Foreclosure inventory represented 1.2 percent of all mortgaged homes in July, researchers noted. Year-over-year, foreclosures dropped from 650,000 homes to 469,000, which brings the foreclosure rate to its lowest level since Dec. 2007.
CoreLogic also reported that serious delinquencies were down in July, which reinforces the now widespread belief that the market is on track for long-term stabilization. Year-over-year, the nation's serious delinquency rate dropped 23 percent to 3.4 percent of all home mortgages.
For months, Massachusetts has remained one of the few states still increasing its foreclosure inventory, and it was no different in July when foreclosures inched up 0.3 percentage points year-over-year to 1.5 percent. The faint silver lining is that serious delinquencies dropped 0.6 percentage points from the same time last year to 3.7 percent. SDR is still above national levels, but the decrease is promising in that it helps limit how many foreclosures can be added to the market in the near future.
Positive Progress
Progress towards clearing foreclosure backlogs and handling current foreclosures has been largely positive, with only a select few metros and states experiencing growth in those corners of the market.
The five states with the highest number of completed foreclosures for the 12 months ending in July 2015 were: Florida (98,000), Michigan (47,000), Texas (33,000), California (27,000) and Georgia (27,000). These five states accounted for almost half of all completed foreclosures nationally.
Four states and the District of Columbia had the lowest number of completed foreclosures for the 12 months ending in July 2015: South Dakota (33), the District of Columbia (124), North Dakota (316), Wyoming (483) and West Virginia (553).
Job Growth ≠ Wage Growth
It is no secret why the foreclosure inventory is losing market share: strong job and home-price growth.
"Job market gains and home-price appreciation help to push serious delinquency and foreclosure rates lower," said Frank Nothaft, chief economist for CoreLogic. "The CoreLogic (Home Price Index) showed home prices in July rose 6.9 percent from a year earlier, building equity for homeowners."
Nothaft also cited the creation of 2.4 million jobs, which, he said, helped push the unemployment rate down to 5.3 percent in July from 6.2 percent 12 months earlier. Strong income growth is good for families, he added, but, as of yet, job growth has not translated into wage growth.
CoreLogic's President Anad Nallathambi is confident the market will continue repairing and fortifying itself as 2015 nears its fall and winter seasons.
"The housing market continues to gather steam buoyed by improving economic conditions and the release of pent up demand for homeownership," he said. "The recovery in the housing market is also reflected in declining delinquency and foreclosure rates, which to some degree, reflects the progressive clearing of crisis-era loans and the benefits of tighter underwriting standards over the past six years."