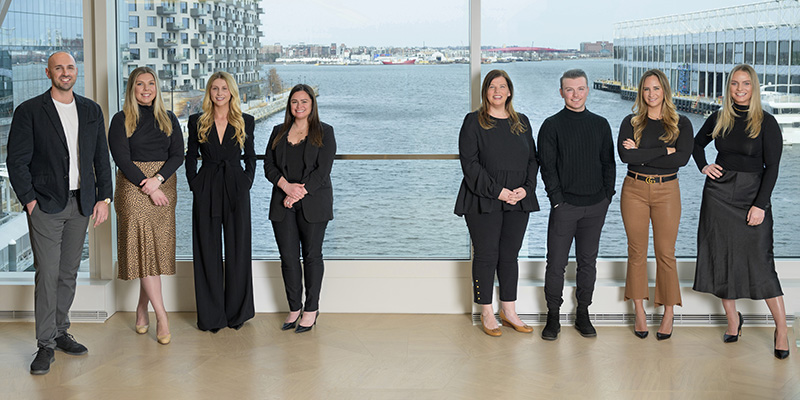 Matt Aranson, Managing Director
Sarah Maguire, Managing Director
Krista Pendergast, Director of Operations
Chris Leighton, Marketing Manager
Jen Millington, Licensed Real Estate Sales Person
Maddie Jefferson, Licensed Real Estate Sales Person
Christine Healy, Licensed Real Estate Sales Person
Amanda McClure, Licensed Real Estate Sales Person
"Pretty soon after our clients meet us, they tend to relax and enjoy the process," note the founders of the Aranson Maguire Group.
Assembled in 2021, this team boasts more than 30 years of combined experience serving clients at every stage in the real estate lifecycle. As native Bostonians, founders Matt Aranson and Sarah Maguire assembled a troop of professionals with a footprint stretching both the north shore to the south shore. Known for exceptional reliability and knowledge, the group has a synergistic reputation that precedes them. The founders note, "Our team has a transparent culture centered around over-communicating," they share. "This helps us support one another when guiding our clients through all kinds of situations."
Aranson and Maguire put together a team that is expertly positioned for the fast pace of real estate, producing $302 million in sales over the course of the last two years. Their collective momentum earned them multiple commendations last year, including No. 1 Rental Real Estate Team serving South Boston (Multiple Listing Service), as well as being ranked the number 3 medium team by sales volume in the state by The Wall Street Journal. Year after year they are recognized by Boston Magazine as top producers as well. With the help of in-house operations, they closed 378 transactions in 2022 and have maintained robust referrals and long-term clients.
Outside of real estate, the team takes pride in being active members of the community. From teaching at local fitness studios, running small businesses, serving on nonprofit boards and more. Aranson Maguire Group knows the importance of being active and giving back. The team has sponsored multiple charitable events, activated their networks to collect winter items for Boston Public School children, and provided holiday gifts to families in need. The group looks forward to serving as the exclusive listing agents for new developments coming to Bay Village, Cambridge, Dorchester, and South Boston in 2023 and 2024.