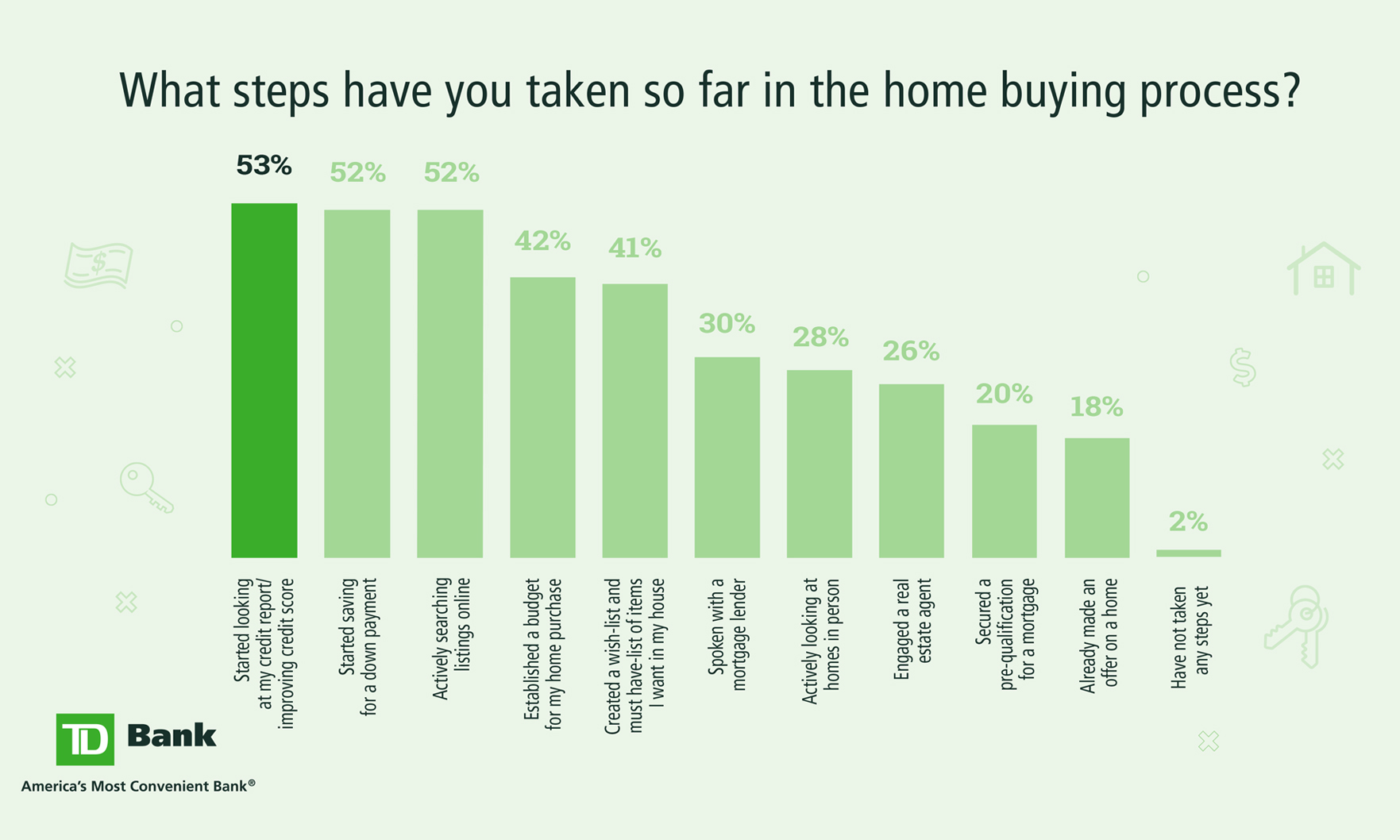 In today's competitive market, understanding the preferences, perceptions and behaviors of first-time homebuyers is critical to delivering a great customer experience – the kind that generates buzz and referrals.
That's why TD Bank recently polled more than 850 millennials (age 23-38) who plan to purchase their first home in the next year. The findings of TD Bank's First-Time Homebuyer Pulse provide a revealing look into what is motivating this generation as they pursue homeownership.
We found that these buyers are entering the housing market for a variety of reasons. Ninety-one percent said they believe buying a home is a good long-term financial investment, and 83% agreed that buying a home is the American dream – associating homeownership with words like safety, stability and wealth. But despite their enthusiasm for homeownership, 75% of our respondents said they're overwhelmed by the homebuying process.
As real estate agents prepare for the spring homebuying season, it will be important to partner with knowledgeable mortgage loan officers to address three key areas that emerged from our survey:
Homebuyer Education
Misconceptions about the requirements to secure a mortgage can demotivate a prospective buyer before they even begin their search, and our survey confirmed that some long-standing myths persist. As one example, nearly 40% of our survey respondents believe a borrower must put 20% or 10% down in order to secure a mortgage. This is significant when you consider that "saving money for a down payment" was the top reason millennials cited for preventing their home purchase to date.
Previous TD research has also identified a knowledge gap when it comes to homebuyers understanding debt-to-income ratio, PMI and other critical mortgage terms and concepts.
This makes it all the more important for real estate agents to connect with loan officers who value homebuyer education and have the expertise to help them navigate the mortgage process – including making buyers aware of low down payment options and assistance programs that may alleviate the initial financial burden of a mortgage.
Homebuyer Expectations
Many of today's rental properties provide access to high-end amenities and desirable locations that homebuyers may not easily achieve in a home purchase. In fact, 17% of our survey respondents said renting allows them to live in a neighborhood where they can't afford to buy.
This has not only kept millennials in their rentals longer; it has also raised the bar for their first home. A whopping 70% of our respondents say their expectations for their first home are higher because of the amenities they have where they currently live.
And while managing expectations has always been a central part of guiding homebuyers along their search, real estate agents and loan officers today must be attuned to this dynamic. In some cases, homebuying teams may need to deliver a gentle reality check; in others, there may be a creative solution or loan product that would give a customer more buying power.
Homebuyer Preparation
Considering today's limited inventory and home prices in Boston, combined with what we know about millennials' expectations for their first home, one thing is for sure: buyers will need to move quickly on an offer once they find a home that checks all their boxes.
And one of the strongest cards a buyer can play is a pre-qualification for a mortgage.
But incredibly, many of our survey respondents have not even taken the first financial steps. Just 53% say they have reviewed their credit score, and 52% have started saving for a down payment – despite their desire to purchase in the next 12 months.
Connecting a homebuyer with a loan officer at the start of the homebuying process can get them on the right path to a pre-qualification. Some homebuyers may lock down their pre-qual quickly; others may need help building or repairing credit or getting their financials in order. Regardless, laying the financial groundwork will ensure real estate agents are maximizing their time with buyers who want to purchase this year.
* Article by special contributor Maryruth Ryan, Regional Sales Manager, TD Bank