This Week in Boston Real Estate: Condo soundproofing, record-breaking sales and more
by Andrew Morrell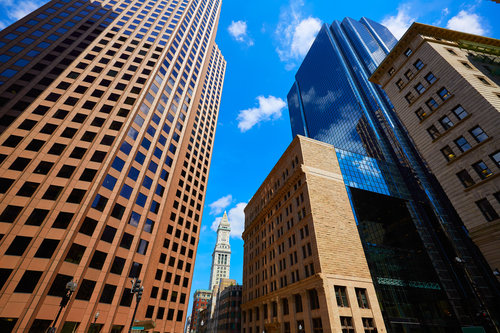 Condominiums, particularly at the high end of the market, have become increasingly attractive to buyers and developers in Boston. But as more high-rise units appear and more residents move in, one ancillary industry is apparently reaping high cash flows: soundproofing installation contractors.
The Boston Globe reports that many local soundproofing engineers and installers have seen an uptick in business among condo residents. Buyers in the city pay top dollar for most of these units, making them even less willing to put up with the noise that is a fact of life in some of these buildings. Whether it's from neighbors walking around upstairs or the building's fitness center blasting music below, soundproofing is becoming a popular yet expensive solution.
"We're getting over 10 calls a day from people in condos and multifamilies complaining about how they can hear their neighbors sneezing or walking or watching TV," Steven Drago, co-owner of New England Soundproofing in Easton, told the Globe. He estimated that these projects can cost upwards of $40 per square foot. Some condo associations have also instituted onerous rules to deal with noise complaints. The article found a few examples included bylaws that required residents to promise not to wear shoes in their living rooms, or require 80 percent of hardwood floors to be covered by rugs or carpeting.
In other Boston real estate news:
The record for the most expensive condo sale in Beacon Hill, and most likely all of Boston, was broken last week. Beth Dickerson, listing agent at Gibson Sotheby's International Realty, earned bragging rights as the agent behind the deal: a penthouse residence at Maison Vernon that sold for $15.11 million, according to a press release from the company. The lucky buyer will soon enjoy 4,025 square feet of space in the three-bedroom, three-bathroom condo, complete with a private terrace, heated marble floors, outdoor hot tub and more. Dickerson has more than 25 years of experience as an agent in Boston, and has closed over $1 billion of deals in her career.
A new six-building condo and apartment development in Allston is taking shape, courtesy of Brookline developer City Realty. Named Allston Square, the planned complex will include more than 200 condo units and around 100 apartments, as well as thousands of square feet in ground-floor retail space. Curbed Boston reports that City Realty's plans for the development were filed in late June, and it hopes to begin construction in the spring of 2019.