Boston is one of the top 10 best large cities
by Lauren Brocato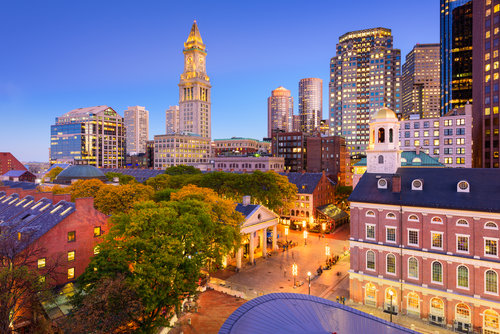 Boston ranked the tenth best large city in the United States, according to a recent study by Resonance Consultancy.
The ranking is based upon six main categories: place, product, programming, people, prosperity and promotion, and analyzes 28 different factors within each. The methodology also used ratings and reviews across platforms such as TripAdvisor to rank the cities' best qualities.
"America's oldest big city" was ranked No. 6 in both the people and safety categories. The strong and growing economy is just one facet of the waterfront city that make it a top 10 city. Boston is also equipped with parks and open space, walkability and energy efficiency.
The 4,728,844 metro population represents over 100 countries, 28 percent of which is born outside the state. The population boom happening in Boston right now, with about 50,000 more residents expected by 2030, means an influx of housing and business activity in years to come. Reebok recently moved their headquarters to Boston in light of the city's booming economy.
"Moving to Boston means moving to a city with unique neighborhoods and a passionate, innovative and active community," Matt O'Toole, brand president for Reebok, said in the report.
In July 2017, Boston 2030, the first citywide plan for expansion in over 50 years, was released by the Mayor's office. In the last four years alone, over 600,000 jobs were created and the annual metropolitan area unemployment rate fell from 6.1 percent in 2012 to 3.4 percent in 2017. This success is proof that Boston is bound to become a thriving city for future generations.
| | | | | | | |
| --- | --- | --- | --- | --- | --- | --- |
| Rank | City | Place | Product | Programming | Prosperity | Promotion |
| 1 | New York | 1 | 2 | 1 | 1 | 1 |
| 2 | Chicago | 15 | 1 | 2 | 11 | 3 |
| 3 | Los Angeles | 7 | 3 | 3 | 20 | 2 |
| 4 | San Francisco | 9 | 17 | 5 | 2 | 5 |
| 5 | Las Vegas | 3 | 4 | 4 | 36 | 4 |
| 6 | San Diego | 2 | 29 | 9 | 18 | 9 |
| 7 | Houston | 40 | 5 | 6 | 12 | 10 |
| 8 | Miami | 5 | 14 | 16 | 41 | 6 |
| 9 | Seattle | 16 | 22 | 7 | 3 | 13 |
| 10 | Boston | 13 | 16 | 17 | 17 | 11 |