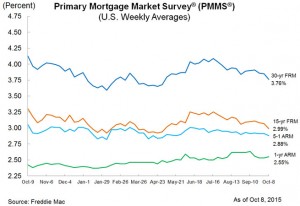 Average fixed mortgage rates have lowered following September's jobs report, according to Freddie Mac's Primary Mortgage Market Survey.
With the 30-year FRM falling from 3.85 to 3.76 percent, average rates have now been below 4 percent for 11 consecutive weeks, while including the 15-year FRM, which fell from 3.07 to 2.99 percent, is at its lowest level since April.
"Calling the September jobs report disappointing is an understatement," said Sean Becketti, the chief economist for Freddie Mac. "The sputtering U.S. economy added only 142,000 jobs. In response, Treasury yields dipped below 2 percent, triggering a 9 basis point tumble in the 30-year mortgage rate to 3.76 percent."
Additionally, the 5-year ARM averaged 2.88 percent, down .03 from last week and 0.18 from this same time last year; meanwhile, the 1-year ARM averaged 2.55 percent, up 0.02 from last week and 0.13 from the same time last year.