Can high-tech device turn street traffic into leads?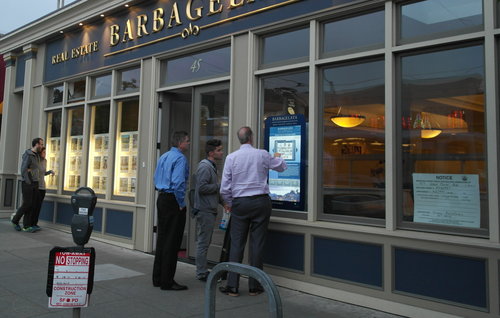 Having a prime storefront window with lots of foot traffic has always been a great way to have a presence in your local community, but is it really generating leads? You don't have wonder if you have WindowAgent.
It is no secret that homebuyers are using technology more than ever to find their next home. In fact, a recent survey conducted by the California Association of Realtors revealed that 96% of homebuyers used the Internet in their home search. WindowAgent takes that knowledge and allows you to leverage your storefront window as an interactive and dynamic lead-generating tool.
How does it work?
WindowAgent installs a touchscreen device behind your storefront window, and anyone walking by can easily touch the screen and access whatever content you provide. WindowAgent's X-factor is that it allows any potential client using the display to easily email, text message or share your content via social media. The software then captures that lead and sends it to you, the agent, so you can follow up with the lead. The most common use case is to show listings, but the software is flexible and allows you to post community updates, open house times, and more. Your WindowAgent display is easily managed via the Web, making WindowAgent a truly easy-to-use technology solution.
WindowAgent works with you to determine what size display will work the best for your storefront, and what software package will fit your needs. You can choose between hooking up to your local MLS feed, or loading customized listings on your own. Once you have WindowAgent installed, you have essentially put your most knowledgeable sales rep outside of your office, 24/7 365. With variable pricing, there is a pricing package that can work for almost any size team.
Storefronts have always been a great way to represent your brand locally, but utilizing technology like WindowAgent can increase your ROI on that costly location by allowing you to collect hundreds of leads a month from interested homebuyers passing by your office. Replacing printed pictures with dynamic images and an easy-to-use interface can give your brokerage a lead generating strategy that will continue to produce for years to come.