CoreLogic's April Foreclosure Report revealed another month of positive stats…for most markets
Since late 2008, when the walls of the world's economy started to tumble, approximately 5.7 million foreclosures have been completed in the U.S., and even more if tabulations extend back into mid-2004, when homeownership rates were hitting their peak. In the seven years following the crisis, housing industry influencers and legislators, working at both the national and state levels, have fought to mitigate the downturn's residual effects, and in April 2015, foreclosure levels took new strides towards sustainable normalcy, according to a report from CoreLogic.
Approximately 40,000 foreclosures were completed nationwide in April, which marks a 19.8 percent year-over-year decline, and a 65.8 percent drop from the peak of completed foreclosures in Sept. 2010. Foreclosure inventory also experienced a significant year-over-year decrease, falling 24.9 percent from 694,000 homes to 521,000, forcing total inventory share down to 1.4 percent.
On the horizon, a budding crop of foreclosures waits patiently for owners to fall further into delinquency, but their numbers are thinning. In April, the number of mortgages in serious delinquency dropped 22.1 percent from the same time last year. As of the publishing of CoreLogic's report, 1.4 million mortgages were in serious delinquency – a 3.6 percent share of all mortgages, the lowest share since Feb. 2008.
Foreclosures continued gaining steam in Massachusetts, where the state's foreclosure inventory share jumped 0.3 percent to 1.5 percent, putting levels just above the nation's. Strong home prices have helped boost equity and push down seriously delinquent mortgages 0.6 percent to 3.8 percent. But as wage growth has failed to keep pace with home price appreciation, the state's foreclosure trend may continue. However, Timothy Warren, chief executive of the Boston-based Warren Group, pointed out in a recent statement that the surge in foreclosure could be the result of lenders taking action on old foreclosure congestion.
"Hopefully the trend will continue, and we will see more and more lenders finally clearing away those longtime delinquent mortgages."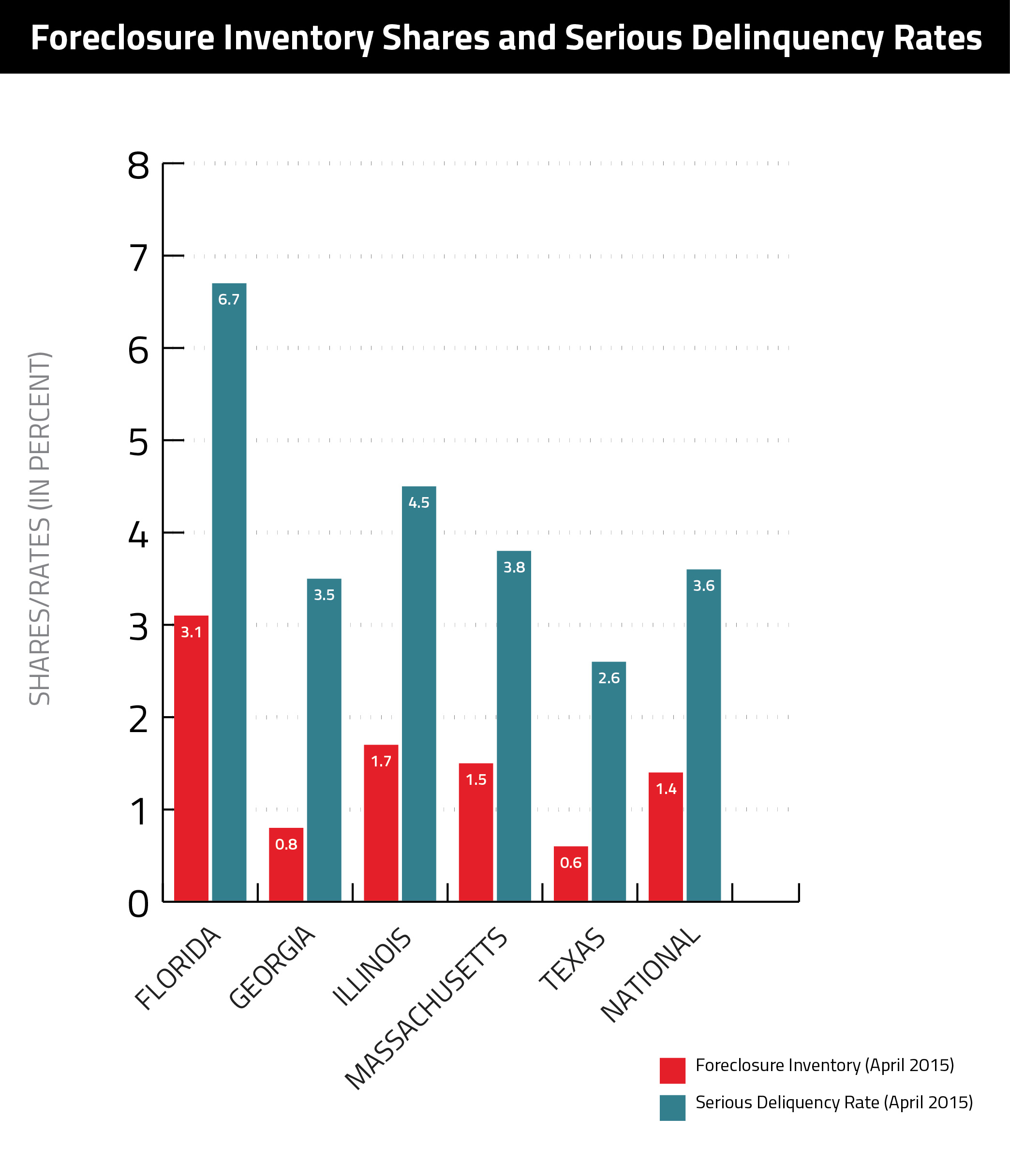 The Foreclosure Patchwork
Through a national lens, foreclosure cleanup is moving along appropriately, with levels dropping each month, pushing the country closer and closer to the pre-crisis levels to which we aspire. But from a less macro perspective, the market is a bit more dynamic.
Four states and the District of Columbia had the highest foreclosure inventory as a percentage of all mortgaged homes: New Jersey (5.1 percent), New York (3.8 percent), Florida (3.1 percent), Hawaii (2.6 percent) and the District of Columbia (2.5 percent).
The five states with the lowest foreclosure inventory as a percentage of all mortgaged homes were: Alaska (0.3 percent), Nebraska (0.4 percent), North Dakota (0.4 percent), Colorado (0.4 percent) and Minnesota (0.5 percent).
On a month-over-month basis, the foreclosure inventory was down by 2.2 percent from March 2015. The April 2015 foreclosure rate of 1.4 percent is back to early 2008 levels.
Not 2004
When evaluating foreclosure levels, it is easy to assess things in terms of pre-crisis norms, but the reality is the market is far from fixed. We're still suffering from the damage caused during the downturn, which is why an optimistic Frank Nothaft, chief economist for CoreLogic, chose to measure things against the recession's peak.
"By mid-2011, after the Great Recession and at the trough of the house-price collapse, more than 1.5 million homes were in the foreclosure pipeline," he said. "Employment recovery, foreclosure alternatives and home-value gains have worked to reduce this inventory. At CoreLogic, we found that April's foreclosure inventory was down 25 percent for a year ago, falling to one-third the mid-2011 level."
But despite the strides Nothaft references, CoreLogic President and CEO Anand Nallathambi was quick to remind that despite improvements, the country has yet to fully recover.
"Despite a slow and steady improvement in most housing market fundamentals, too many families remain in default of their mortgage obligations," he said. "The percent of homeowners with a mortgage that have missed three-or-more monthly payments or are in foreclosure proceedings dropped to 3.6 percent in our April data; while well below the record peak of nearly 9 percent and the lowest in more than seven years, it remains about double the pre-2007 rate."