This Week in Boston Real Estate: Mass. Pike project and developer politics
by Andrew Morrell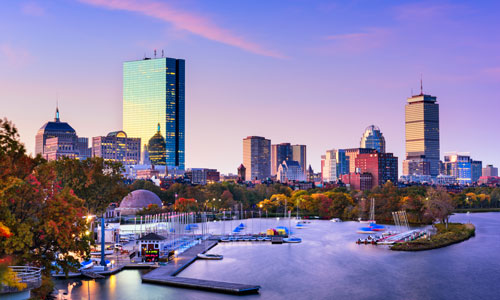 What could be the biggest infrastructure project undertaken in Boston since the infamous Big Dig is a step closer to breaking ground. The Boston Globe reported Jan. 10 that Massachusetts Department of Transportation officials released the final plan for the agency's overhaul of a section of the Massachusetts Turnpike in Allston along the Charles River. Currently, the stretch of highway that carries some 150,000 cars per day curves through an abandoned rail yard and over an aging viaduct. The new design would straighten the curved section and bring the highway down to ground level along Soldier Field Road.
City planners say the new design would reduce traffic congestion on the Mass. Pike while freeing up land around the site, some of which will be developed into offices for Harvard University. But these benefits will come at an estimated cost of $1.1 billion, not to mention what could be years of traffic delays as the arterial highway is rerouted. Officials estimate the entire building process could take eight years from start to finish, including early environmental studies that would delay the inevitable traffic reroute to 2021. Still, the Globe reported that even after years spent debating the design and scope of the project, the state hasn't yet found or allocated any funds in its budget to pay for it. For now, Boston commuters must keep watching and waiting.
In other news:
Boston Mayor Marty Walsh, along with a coalition of other Boston metro city officials, have made clear their support for housing development around the city, particularly affordable housing. In his first major step toward that goal this year, Mayor Walsh's administration said it was planning to petition the state legislature for updated rules on funds provided to affordable housing construction from Boston developers. Currently, commercial developers of offices and hotels in Boston are required to pay fees into a public fund that supports affordable housing and job training efforts. Currently, those fees amount to around $10.81 per square foot of proposed commercial development. State laws dictate that those fees may be raised every three years and are pegged to inflation, but the mayor's chief of economic development John Barros told the Globe that the administration would like to amend or even remove those restrictions.
The mayor's proposal to raise developer fees ahead of schedule may be met with resistance in the capitol from a powerful friend of Boston builders: Governor Charlie Baker. The Globe reported in a separate story Jan. 8 that, according to public records, Boston developers and affiliates donated more than $300,000 to Baker's inaugural committee in the last two months of 2018, or around 25 percent of the $1.1 million it received in total. Among the list of names who gave the maximum allowed by the campaign (state law does not limit donations to inaugural committees): Boston builders like Suffolk Construction CEO John Fish, WinnCompanies, Pappas Enterprises and others. Some donations also came from corporations with real estate plans such as New Balance, which is headquartered in Brighton and was recently approved to redevelop its offices, as well as the owners of the Boston Red Sox and TD Garden. The Globe's Jon Chesto points out that, according to government officials, donations to inaugural committees are not made to gain access or favor with the administration. Still, they are not limited by state and federal law like direct campaign contributions are, and up until the passage of a 2009 law, they typically weren't even made public.