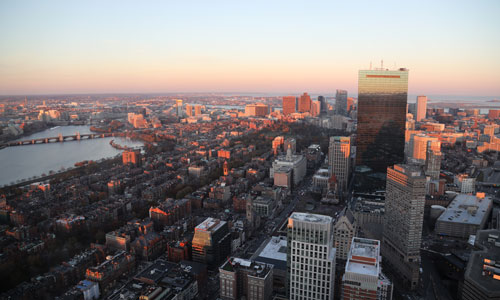 Boston City Hall hosted the latest public meeting regarding the planned redevelopment of the massive, 161-acre site at Suffolk Downs on Dec. 12, with several East Boston residents in attendance to voice their concerns surrounding the project.
While the evening's agenda was filled mostly with "relatively routine tweaks to the project's zoning," according to Boston Globe reporter Tim Logan, activists and opponents of the development still came out in force to voice their dissent with handmade signs and their own remarks to city officials. One East Boston resident told the city's planning commission, and members of lead developers HYM Investment Group including prolific investor Tom O'Brien, that she was afraid of what the Suffolk Downs redevelopment could do to rents in her neighborhood.
"They already have tears in their eyes at all of these expensive projects," resident Juana Sanchez said through a translator, according to the Globe. "Don't forget about our low-income people, especially the elderly. They don't have anywhere else to go."
East Boston City Councilor Lydia Edwards said she understood residents' fears of gentrification and rising housing costs, but felt the city and HYM were on solid footing in terms of affordable housing quotas and other protections built into the plans for Suffolk Downs.
"I want to make sure that our community is part of this plan, and that they feel like they have a home at Suffolk Downs," Edwards said.
As of the latest draft submitted to the city, HYM says the Suffolk Downs site will include more than 900 deed-restricted affordable units, which would be the most ever included in a single Boston project since it began requiring certain numbers of affordable units in new projects, according to the Globe.
In other local real estate news:
Crews broke ground on The Ceinture, the latest luxury residential development in South Boston, on Dec. 11, according to a press release from the project's marketing and sales team. That team will be led by Dallin & Gollinger of Coldwell Banker Residential Brokerage. Upon its scheduled completion in the spring of 2020, The Ceinture at 20 West Fifth Street will include 54 luxury condos with plans for one- and two-bedroom units ranging 800 to more than 1,400 square feet. The development lies within what city planning officials have designated the Dorchester Avenue Growth Corridor, and it hopes to see 25 million square feet of new development in the area over the coming years.
Boston architecture firm Payette was named the Architecture Firm of the Year by the American Institute of Architects, according to a Dec. 12 news release. A member of the Boston Society of Architects, Payette "is known for research-based design that performs at a high level technically, programmatically, and environmentally while emphasizing the human experience," according to the release. Its most notable past projects in the area have included the Boston University Rajen Kilachand Center for Integrated Life Sciences and Engineering and Northeastern University's Interdisciplinary Science and Engineering Complex.
One of Boston's biggest sales ever for an office building closed Dec. 13 on a newly completed Seaport tower. The Boston Globe reports American Realty Advisors and Norges Bank signed a deal to purchase the 17-story tower at 121 Seaport Blvd. from its developer, Skanska USA, for $455 million. Even though the sale did not include the tower's lower-floor retail space, it still ranks among the highest-priced sales for an office tower in Boston history, according to the Globe. Construction on the tower began in 2015 and was completed earlier this year, notably without any tenants already signed. The tower is currently leased by tech company PTC and pharmaceutical firm Alexion.
What can we expect next year for Boston real estate? According to Curbed Boston, probably more of the same. Home and condo sales will cool, but rents will heat up again as more construction and high-priced site sales continue. That's the consensus among Curbed staff and of Boston editor Tom Acitelli, who named those four factors as the keys to next year's local real estate market. These trends will be particularly shaped by the city's goal to dramatically increase housing construction and add 168,000 new units across the greater Boston area by 2030.