This Week in Boston Real Estate: Garage conversion, Amazon speculation continues and more
by Kelly McCabe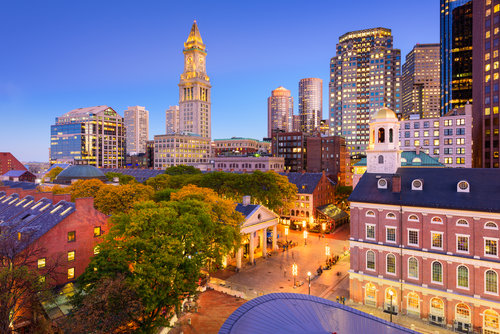 A New York developer recently filed plans with the Boston Planning & Development Agency that would top the Dock Square Garage with 195 apartments or condos, The Boston Globe reported. In the plans, Fortis Property Group says it will re-clad the building and top the parking garage with a nine-story tower. The number of spaces would decrease from 698 to 538.
Elsewhere in Boston real estate news?
While there haven't been any further announcements about Amazon's hotly desired new second headquarters, there is news that the ecommerce giant is looking for as much as 1 million square feet of office space in Boston, according to the Globe. Naturally, the news is fueling the gossip fire that Boston is a frontrunner for HQ2.
Ever-changing Allston is the site of a proposed project that includes 74 middle-market units — including nine condos — in two buildings, one with four stories and one with five. According to the Boston Herald, the condos would be one-bedroom units or one-bedroom lofts.
A recent Curbed report featuring major developments that will transform U.S. cities this year highlights Boston's Hub on the Causeway. The 1.87 million-square-foot development will feature retail and restaurant space, offices, hotel rooms and residences. The first phase is set to be completed this year.