Boston housing market moving in luxurious direction
by Joe Ward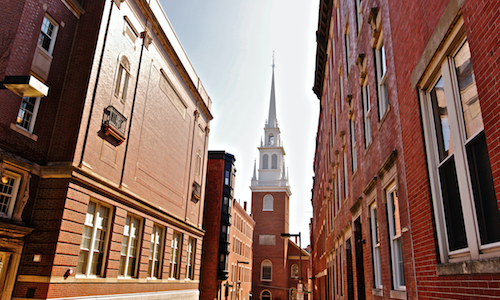 A major construction boom underway in Boston could change the face of housing in the area for years to come.
That's according to a Wall Street Journal report on the state of the real estate market in Boston, where 14 million square feet of new space is being developed with 40 million-square-feet in permitted projects in the pipeline.
Some of that new construction is highly touted corporate relocations, including a $200 million headquarters for GE. But about 80 percent of the new construction is housing, according to the Wall Street Journal. Much of that new housing is considered luxury apartments and condos, which is a "relatively untested market" given that much of the existing housing stock is low-rise, the paper reports.
Even Richard Friedan, the developer of One Dalton, an ultra-luxury condo tower being built in Back Bay, admitted that his project is "very new for Boston," according to the paper. But that seemingly hasn't hurt his sales: though the developer has not released sales figures, the sale of One Dalton's penthouse unit fetched a record breaking $40 million. Most buyers at One Dalton are locals rather than international investors, suggesting the market is ready and can bear the cost of luxury housing.
Such sales are buoyed by Boston's growing population, as 50,000 new residents have been added since 2011, the Wall Street Journal reported. That's 8 percent more than all of the previous three decades, and the new residents are generally highly-educated, high-income-earning workers. Such demographic change appears to be shaping the area's housing market.
Inventory causing issues
It's no secret that historic inventory woes have plagued the Boston housing market, causing home prices to soar amongst intense buyer competition and leading others to look for housing elsewhere. So, more housing in the area is not a bad thing, but it is the type of housing being added that is causing a stir.
According to the Wall Street Journal:
Most concerning to planners, Boston is facing a shortage of middle-and-low-income housing as affluent workers and others bid up the price of market-rate apartments and houses. Mayor Walsh is ahead of schedule on his plan to add 53,000 units by 2030, but it hasn't been easy.

The effort has trigged opposition in neighborhoods where residents are worried about being displaced by market-rate housing. 'It's a real struggle for us,' said Mr. Golden, who pointed out that 17 percent of the 3,607 units competed in 2016 were considered affordable, or below market rate.
Despite the scores of new units making their way onto the market, Boston home prices have not gone down, suggesting the appetite for luxury housing could meet the coming inventory. The Wall Street Journal reports that there were 3,708 condos and single-family homes sold in 2016, up by about 300 units from the previous year. The median sales price rose to $791,000 from $685,000 in 2015.
The existing high-end apartment market has also fared well. Rents in the expensive Fenway Park neighborhood increased 2.5 percent last year, according to the paper.