As Boston new construction thrives, these 5 developments stand out
by Reiley Bonislawski
Boston has one of the most active new construction markets in the country. According to the latest numbers from Dodge Data & Analytics, construction in Greater Boston is up 44 percent so far in 2016.
Many developments are a part of that spending, and we have spotlighted five of the most notable below:
---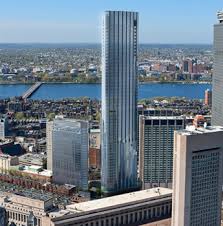 Four Seasons Hotel & Private Residences One Dalton Street
When completed, One Dalton Street will be the third-tallest building in Boston, and will stand 699 feet at 61 stories.
Out of roughly 215 rooms, 180 high-end condominiums will occupy the upper floors of the tower. Multiple restaurants, a health club and spa, and on-site parking make up some of the offered amenities of the tower.
Residents will receive a private elevator entrance into the unit, a large staircase, and 14-foot-high ceilings. Prices at this tower are estimated to run roughly $2,500 to $3,000 per square foot. To put that into perspective: An 8,000-square-foot penthouse could run in the $24 million range.
---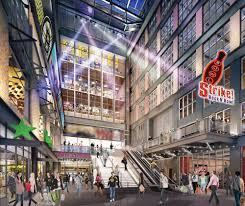 The Hub on Causeway
The Hub on Causeway development is expected to span more than 1.5 million square feet. This space will be made up of retail shops, offices, a hotel, theaters, and the largest supermarket in the city. A 400-unit, 38-story apartment tower will also be included.
Along with those new services, The Hub on Causeway will serve as an extension of the nearby TD Garden, while providing a new entrance. The project will also feature an underground connection from the commuter rail to the subway at North Station.
---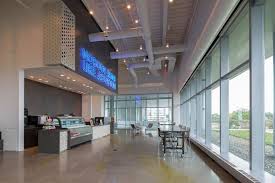 Boston Landing
The Boston Landing development should be an exciting one for Boston's sports fans. The 15-acre spread includes the New Balance world-headquarter building, a practice rink for the Bruins, a practice center for the Celtics, and a 175-key boutique hotel.
This development is set to include office, retail, and public amenity space, along with a ground-floor restaurant and a commuter rail train stop.
---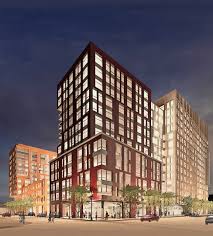 345 Harrison Avenue
One development that is already under construction is this 560-unit apartment complex. The 345 Harrison Avenue development will serve as a link between Downtown, Chinatown and the South End neighborhoods.
Special features this two-building complex will offer include 33,500 square feet of ground floor retail and restaurant space, parking, and a green roof for the tenants.
Additionally, the complex will feature 602 new units of housing, 13 percent of which (or 78 units) will be affordable.
---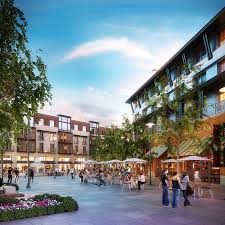 South Bay Town Center
The South Bay Town Center development will expand the area's existing shopping center by 700,000 feet. The project will be repurposing unused space to accommodate 475 apartments and condos (61 marketed as affordable), a 12-screen movie theater, a hotel, restaurants, and shops.
In an effort to declutter the area, South Bay will utilize "positive quality of space," and will connect all its various shops via new sidewalks.