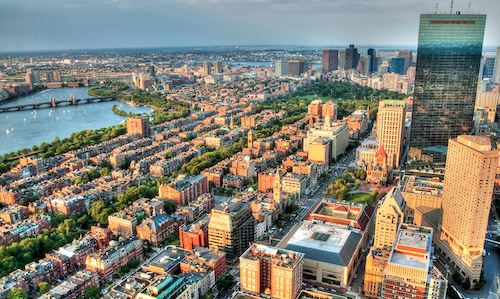 Boston is changing. With shifting demographics, a more conglomerated metropolitan area and the impending effects of climate change on a coastal city, influencers in Massachusetts' capitol are dictating plans to transform the metro to better reflect its contemporary makeup. Development and re-development are a big part of those plans.
Most people know about the new development going on downtown, said Kathy Kottaridis in a white paper from real estate crowfunding site Patch of Land. The executive director of Historic Boston Incorporated added that what many are unaware of is "the city's neighborhoods are (also) experiencing extraordinary development energy with high demand for housing and keen interest by industries that are looking beyond the downtown core for the 'cool' factor and transit-oriented development opportunities."
Kottaridis specifically mentions Dudley Square in Roxbury, the Innovation District along the waterfront, Allston near Harvard's new projects and the industrial areas between South Boston and the South End, as locations to watch. However, according to Patch of Land's market report "Boston: City on a Hill with Rising Opportunity," the crowfunder explains how the metro's updating strategy is more encompassing that a few select areas.
Building to Demographics – According to Understanding Boston, a series of educational forums organized by The Boston Foundation, the city's metro area has "entered a third demographic revolution." The first, the group clarified, was one led by "massive immigration," while the second was the "rise of predominantly white postwar suburban settlements." The revolution Boston is currently experiencing is driven by the city's two fastest growing generational cohorts: aging baby boomers and young adult Millennials.
Understanding Boston has come out in strong favor of pushing the city to redefine itself, claiming that its housing market has already lost touch with demand and "is undermining housing security of low-income working families." Its solution: build more of the "right types" of housing, which the group sees as:
Small multi-unit housing for Millennials in urban neighborhoods
Multi-unit housing for Baby Boomers in the suburbs
As a case study, Patch of Land highlights Dorchester, where, according to PropertyShark, transforming the area with the "right types" of housing helped bolster home prices, pushing the local median from $269,500 in 2009 to $455,000.
Forming a Gateway Grid – Inventory in Boston is stuck near the floor, and space for new building in the city proper is limited, which is pushing developers and buyers into the outlying neighborhoods, suburbs and exurbs. In the 1800s, Jamaica Plain and Hyde Park, which local appraiser Collin Lord described as Boston's "boroughs," were streetcar and rail line "suburbs," Patch of Land wrote. But as the city grew, the suburbs were subsumed into the city. Hyde Park is now Boston's southernmost neighborhood.
MassINC, a think tank focused solely on issues pertaining to Massachusetts, which also sponsors the Gateway Cities Innovation Institute, is an outspoken proponent of beter connecting the communities surrounding Boston proper.
"(Boston-adjacent towns) retain many assets with unrealized potential," the group told Patch of Land. "These include existing infrastructure and strong connections to transportation networks, museums, hospitals, univerisities and other major institutions, disproportionately young and underutilized workers, and perhaps above all, authentic urban fabric."
The think tank believes that with Boston in a state of flux, the city has an opportunity to "leverage these untapped assets," which could help satisfy demand for more walkable neighborhoods and small entrepreneurial businesses.
"These trends position Gateway Cities to once again serve as engines driving growth in regional economies across the Commonwealth," the group said.
Preparing for Climate Change – In February, Boston experienced its snowiest month since record keeping started in 1872, CNN reported. Activity in the city slowed to a near standstill, and during the subsequent melt-off, concerns of flooding and property damage seized the area. With climate change slowly becoming a more present threat, developers and builders are now wondering whether these harsh winters are an anomaly or simply the new norm.
"This is going to be one of the greatest challenges of the next century, and there are no easy answers," Kottaridis warned.
Already, Boston has a climate change plan in place. Former Mayor Thomas Menino, who died last year, installed the plan and built in a stipulation that it would need to be updated every three years. Patch of Land's report points out that during the Vatican's recent conference on climate change, Boston was one of two American cities selected to be part of a "Climathon" to help develop climate "hacks" and solutions to be used in cities around the world.
Developers in the city are particularly concerned because as the area's climate shifts, even slightly, they will have to implement new building strategies and use different construction products designed specifically to withstand climate adjustments. Some builders have also expressed fears of finding themselves subject to new, more stringent environmental regulations. But as climate change becomes more of a mainstay consideration, developers are likely to find environmentally conscious projects more welcome and demanded.
As the report reads: "In both the near and longer terms, any projects that can innovate in these, and other ways, in terms of weather resiliency, reduced carbon footprints, flood mitigation, or any other aspect of climate change adaptation and incorporation, are likely to find welcome responses in both Boston's private real estate marketplace, and support in the corridors of municipal governance."