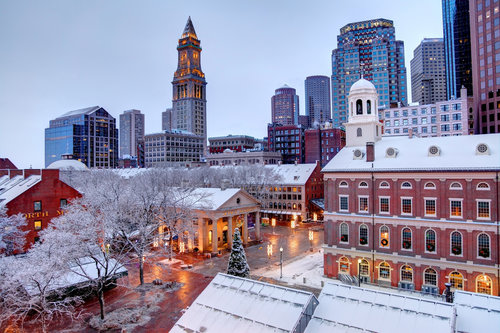 Boston's own HYM Investment Group said they'll be going ahead with the redevelopment of Suffolk Downs, the old racetrack on the border of East Boston and Revere. Amazon's interest in the 161-acre site reportedly spurred planning at the site, although Amazon overlooked Boston.
Either way, the plans to redevelop the huge property were going to happen with Amazon or not. The Globe reported Developer Tom O'Brien hopes to start the first phase of construction in 2019 after getting the required permits of both cities. The first phase of the redevelopment is estimated to total at least 1.4 million square feet near the Beachmont stop of the Blue Line in Revere and spill a little over the Eastie line.
HYM Investment Group said the redevelopment, when construction is completed, will have 16.5 million square feet of residential, retail, office, hotel and lab space. The Suffolk Downs redevelopment plan will also take as long as two decades to totally finish.
In other real estate news:
The redevelopment of 325 Main Street in Cambridge's Kendall Square will progress after receiving approval from the city. Current plans call for demolishing the current building, owned by MIT, and replacing it with an 18-story modern glass and steel tower with more than 387,000 square feet of office space. Curbed Boston reports that Google is likely to become the core tenant of the building once completed, since the company already has offices just down the street, but no formal announcement has been made. Plans for Kendall Square's redevelopment also include a new head house for the nearby Red Line station and upgraded amenities for pedestrians and commuters.
Trade group NAIOP Massachusetts, which represents commercial real estate developers, received word from the Baker administration after asking for help with the state moratorium on natural gas hookups in National Grid's territory. While winter is well on its way, the Baker administration isn't ready to lift restrictions yet after a major gas line failure earlier this year. Governor Baker's energy secretary Matt Beaton said the Department of Public Utilities will explore alternative measures once the agency is "confident of their safety." But developers and builders need to be able to heat project interiors and to keep pipes from freezing. The moratorium was introduced in October after explosions and fires in the Merrimack Valley took place in Columbia Gas territory. The policy said, at least for now, only emergency and compliance work is allowed – that includes metering work for already-occupied buildings. NAIOP's Tamara Small estimated thousands of housing units are delayed, leaving finished properties unused.
Seaver Construction announced the start of construction at Shannon Farm Luxury Farmhouse Townhomes in Woburn. The luxury townhomes will offer a "modern, farmhouse-style feel" at the former site of Shannon Farm. The 24-acre development will offer 112 townhome units. Amenities include a first-floor master suite, a two car garage, hardwood floors, solid wood cabinets with quartz countertops and walk-in showers with custom glass doors. The townhomes were designed by BSB Design and Maggiore Companies has also partnered with Seaver Construction. The project is scheduled to be completed some time in 2020.