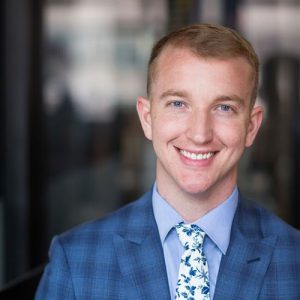 Name: Torin Hanlon
Job Title: Realtor
Company: William Raveis Back Bay
What was your first job in the realty industry? Leasing apartments – anywhere and everywhere! It was scrappy work with little reward, but it was a start, and that's all I needed.
Where did you grow up? Just north of Boston in Saugus and Revere.
Growing up, what did you want to be? I wanted to flip and sell houses. As early as middle school I'd watch "Trading Spaces" and "Extreme Home Makeover" and I fell in love with real estate and the way it made people feel. I wanted to play a part in making people's dreams come true, and in America, that dream is often home ownership.
What do you do to relax when you're stressed? I love taking my chocolate lab, Griffey, on off-leash hikes with my wife. The tranquility of walking through the woods can be a nice break from the hustle and bustle of selling in the city. Also seeing how excited Griffey gets doing something as simple as running around the woods or jumping in the water really puts things in perspective for me. It reminds me that you don't need money and "things" to experience true happiness.
If you could have lunch with a well-known figure (living or not), who would it be and why? George Washington! He fought for something and didn't quit just because the odds were stacked against him and things got tough (and I mean tough!). He had exceptional perseverance, thought outside the box, and his leadership skills were second to none. I have a sneaky feeling I could learn a thing or two from him if I had the opportunity.
Where is your favorite place to hang out? I'm a big fan of the dog park! Sounds insane but it allows to be kill a few birds before my day even starts! My dog gets to exercise (so won't be annoying if I'm working from home), I get to spend some quality time with my wife (she is attorney and works as late as I do), and I get to network with locals (we have an amazing community of people who frequent there). Oh, and it's also where I have my morning coffee!
What do you love most about the industry? The responsibility and reward! In real estate we are consistently playing a huge part in people's largest purchase or sale of their lives. There is a lot of money and emotions on the line for my clients and that is something I take very seriously. For this reason, there is nothing more rewarding than seeing/hearing their excitement when they close. I happen to work with a lot of 1st time buyers too, so that makes things even more exciting, as you get to witness them accomplish a major life goal and start the next chapter in their lives.
How do you distinguish yourself from the crowd of agents? When I entered this industry my goal was to change the game and the way it was played. I hate that the industry gets a bad rep for distrust, so I work diligently to change that. Through social media, I try to lift up the curtain on what we do as agents. I try to post as many informative videos as possible to teach consumers best practices and teach them what to look out for. Whether they are using me or not, that is not the main concern. A bad experience in real estate with any agent poorly reflects on me. So, I just try to give them as many tools and resources as possible to make their own decisions so their experience is memorable in a good way.
What is the most difficult aspect of your job? Balancing time. With so many things going on, whether it be personal or business, it's too easy to get pulled in different directions and lose focus on what matters most. For me to be successful and give my clients the time and service they deserve it means that I need to be obsessive over time management.
Where do you go to network and meet new clients? As mentioned before, I shamelessly use my dog to network. Whether it be at the dog park or just walking around town and starting up convos with the people who stop to pet him. When I'm not using my dog as a ploy, I venture out on my own to different networking events in the city. Being a millennial, it's not uncommon that I network and meet people right on the internet through Instagram and Facebook, similar to people using dating apps. Times have changed!
What has been your greatest accomplishment? My greatest accomplishment is simply having overcome so much adversity growing up in my personal life and really making something out of nothing. I have everything I could ask for in life and it all came through hard work and just continuing to being myself, which is someone who truly wants to do good for people and refuses to waver from that just to get ahead or make a dollar. I grew up always believing good things happen to good people willing to put in work, and I'm living proof of that now.
What was the last good movie you saw or book you read? Gary Vaynerchuck's "Crushing It!". There are a ton of stories in there from people around the world who are literally "crushing it" because they stopped caring what people thought and started putting themselves out there. In this industry your brand is everything. You can't expect to be known and have a name if you're being a "secret agent" and not making a conscious effort to be seen and provide value. It also taught me that you shouldn't expect anything if you're not willing to give everything.
What is your favorite restaurant? LoConte's in the North End. One of my best friend's family owns it and their chicken parm (my favorite meal) is amazing!
Architecturally speaking, what is your favorite building in Boston? Probably the State House. How can you not love something with a golden dome!?
What kind of car do you drive? Hyundai Sonata. My wife call's it a dad car but I love it!
Smartphone or paper? Smartphone! If I use paper then I'd need a pen, and quite frankly I wouldn't know where to find either in my house. Give me all the tech!
What is your favorite city after Boston? Besides for Saugus (shoutout to all my Sachems!), I'd say Austin. My team attended a real estate conference there last year and it was amazing. The food and bar scene especially. I'd never leave Boston, but if I did, I'd be landing in Austin.
In 10 words or less, what is your advice for someone new to the industry? This is a relationship business & to hustle consistently
What's your favorite real estate iPhone/Android app? Instagram. Again, it's a relationship business and that's where my people are.
Who are your favorite people to follow on Twitter? Embarrassingly enough I've never had twitter.
---
Want to be featured in our Agent Snapshot? Click here and complete this survey. Agent Snapshots are published on our website and shared in our newsletter and social media feeds.