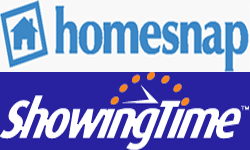 Homesnap announced today that Homesnap Pro, featuring ShowingTime's 'Schedule a Showing' link, will be integrated in markets in which both platforms are available, starting with MRIS.
Homesnap Pro is the professional version of the popular consumer app Homesnap, which lets users "snap any home to find out about it". The agent-only app is a result of collaboration between ShowingTime and Homesnap, the provider of Homesnap and Homesnap Pro, that gives agents the ability to access real-time Multiple Listing Services information from their mobile phones and tablets. The app also allows agents to connect and collaborate with each other and their clients.
ShowingTime is the leading showing management technology provider in the real estate industry that equips MLSs, associations, offices, brokers and agents with tools to schedule showings, generate feedback and report on activity. Homesnap collaborated with ShowingTime to implement the company's 'Schedule a Showing' link, which enables agents to point and click to request showings easily from a smartphone, tablet or PC.
With the addition of the 'Schedule a Showing' link, agents are provided a quick, simple scheduling option with Homesnap Pro. Showingtime President, Michael Lane, expressed enthusiasm over the launch of this collaborative service.
"We are very excited about this integration and look forward to launching this collaborative service for MRIS customers," said ShowingTime President Michael Lane. "ShowingTime for the MLS helps agents remove some of the obstacles to showing a home; adding the 'Schedule a Showing' button to Homesnap Pro makes perfect sense to streamline the scheduling process further."
Homesnap Pro not only allows agents to schedule showing times using the ShowingTime link, but gives agents the flexibility to research homes, contact agents and communicate with clients quickly from their mobile devices. Homesnap Pro allows you to view agent-only listing information including, but not limited to, agent remarks, commission splits, showing instructions, disclosures and occupancy. The app also generates CMA reports in less than five minutes to share with clients, automatically designates you as the default agent to contact on all of your active listings and features you in weekly emails and on Homesnap property pages.
With the addition of ShowingTime's 'Schedule a Showing' link, when listings are viewed in Homesnap Pro, the 'Schedule a Showing' button will appear, automatically providing a quick, simple scheduling option. Homesnap CEO, Guy Wolcott, commented on the benefit of simplicity as a result of adding ShowTime to the Homesnap Pro app.
"Homesnap Pro gives agents unprecedented access to their MLS while in the field and makes them more productive and efficient. Adding ShowingTime to Homesnap Pro puts the next logical step in place: scheduling a showing with just a tap," said Homesnap CEO Guy Wolcott.
Homesnap Pro was launched in May with MRIS, the industry-leading Mid-Atlantic MLS that provides real estate information technology and services. MRIS President and CEO, David Charron, believes ShowingTime and Homesnap's collaboration is an innovative product that aligns with MRIS's mission.
"We expect this collaboration between ShowingTime and Homesnap to provide our customers with a glimpse into next generation tools. The innovative functionality of Homesnap Pro, combined with the ability to schedule showings through ShowingTime, furthers our goal to meet and exceed the needs of today's busy real estate professionals," said MRIS President and CEO David Charron. "It is aligned with our mission to encourage innovation in the broker and agent community."
MRIS is currently the only MLS to have and offer Homesnap Pro, but Homesnap hopes to expand to the Homesnap Pro app to include other MLSs across the country. The Homesnap Pro app is valued at $29.99/mo., but is included in your MRIS subscription with no additional cost. As the app develops, Homesnap intends to include residential rentals, multi-family and lots/land listings, in addition to the residential lists already offered.