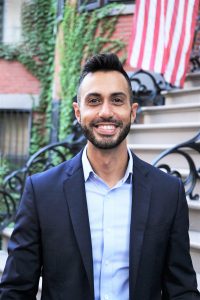 Name: Greg Dekermenjian
Title: Broker
Company: Coldwell Banker
What was your first job in the realty industry? For several years, prior to becoming a broker, I was the director of the attorney general's program dealing with foreclosed and blighted properties across the state.
Where did you grow up? Beirut, Lebanon (It's a long story.)
Growing up, what did you want to be? Happy.
What do you do to relax when you're stressed? Workout and go to the park with my French bulldog, Sky.
If you could have lunch with a well-known figure (living or not), who would it be and why? Hillary Clinton, to find out what *really* happened.
Where is your favorite place to hang out? The beach with my friends.
What do you love most about the industry? I love to socialize and interact with people and don't care for a monotonous schedule. Every day is new and exciting in this industry. I enjoy listening to my clients' stories, figuring out what their challenges are, and coming up with creative and innovative solutions.
How do you distinguish yourself from the crowd of agents? Prior to becoming a broker, I was a lawyer for 10 years working at the attorney general's office. I focused on investigating and litigating subprime mortgage securitizers and subsequently ran a program dealing with the effect of the foreclosure crisis on properties across the state. I bring a unique set of skills to my clients from negotiation, business judgment, and a deep understanding of the mortgage and finance industry.
What is the most difficult aspect of your job? I love this job but it's sometimes hard to know when to "turn it off." Finding that balance of being always responsive and available to your clients and making some time for my personal life is always a challenge.
Where do you go to network and meet new clients? I'm a pretty outgoing person. I meet people everywhere, from restaurants and local charity events to social media and the dog park.
What has been your greatest accomplishment? Being the first person in my family to graduate high school. My dad never finished school but he is the hardest working person I know. He instilled that work ethic in me from a very young age.
What was the last good movie you saw or book you read? The Big Sick. I can't remember the last time a movie made me laugh so hard and cry at the same time.
What is your favorite restaurant? Anoush'ella in the South End. It reminds of the delicious eastern Mediterranean food of my childhood. I'm also not-so-secretly obsessed with the wings at Whiskey's in Back Bay.
Architecturally speaking, what is your favorite building in Boston? 941 Boyslton St. in Back Bay. I always stop to admire the history and beauty of this fire department.
What kind of car do you drive? Audi Q3.
Smartphone or paper? I use my iPhone and MacBook for almost everything. I do, however, have some clients who prefer paper. I always remind them to recycle.
What is your favorite city after Boston? Huntington Beach, California. I was born there and love the pier and beach. I'm a surfer at heart.
In 10 words or less, what is your advice for someone new to the industry? Don't neglect the power of social media.
What's your favorite real estate iPhone/Android app? Zap. It's a proprietary client management tool for CB agents. It helps me organize all my daily activities, from to-do lists to emails to showings.
Who are your favorite people to follow on Twitter? I'm more active on Instagram (@dekermen). I love following @brianmcw and @southendboston for some amazing pictures of the city. I also follow @blackbirdoughnuts because who doesn't love doughnuts?